Come see our potted roses, both own root 1 and 2 gallon size potted roses and 5 gallon potted roses. Bare Root Roses must be ordered ahead so we can place them in our "Pick Up Box" on a day that is convenient for you. Come see the roses and enjoy a picnic in the garden every day, including holidays, from 9 to 4.
Roses bloom through fall and even winter in California, so the garden is enchanting any time of year. Potted roses are available year-round.
The Corralitos Market is a great place to stop for hot sandwiches and many of the best restaurants in the Monterey Bay area proudly state they serve their sausages and bacon. Gizdich Pies are regularly sold fresh there, as well! For a peaceful and interesting place to stay, try Sand Rock Farm Bed and Breakfast in Aptos. www.sandrockfarm.com. A few other great places to visit are the Gizdich Ranch for U-Pick Berries, sandwiches and fresh pie slices, Aladdin's Nursery on Freedom Blvd., and Sierra Azul, which is located near Gizdich Ranch and across from the Santa Cruz County Fairgrounds. For dining in Santa Cruz, we recommend a favorite, Cloud's Downtown or Olita's on the Santa Cruz Wharf.
Choosing, Propagating, Planting, and Caring for Roses

Saturday, February 25, 2012 10-noon. Class fee $10. or the purchase of 1 rose plant (any type).
Please make your reservation with postmaster@rosesofyesterday.com

Guinivere Wiley, owner of Roses of Yesterday, will present this workshop on the various classes of roses, and how to prune, plant and care for them during their first year. Come enjoy the wonderful Roses of Yesterday & Today Rose Garden and nursery as you learn about these intriguing plants.
Dress for the outdoors and bring a snack. Heavy rain cancels.
Private pruning workshops and tours are available for groups for the purchase of 3 rose plants (any type). Email or call to schedule.
Roses of Yesterday, 803 Brown's Valley Rd, Watsonville
www.rosesofyesterday.com, 831.728-1901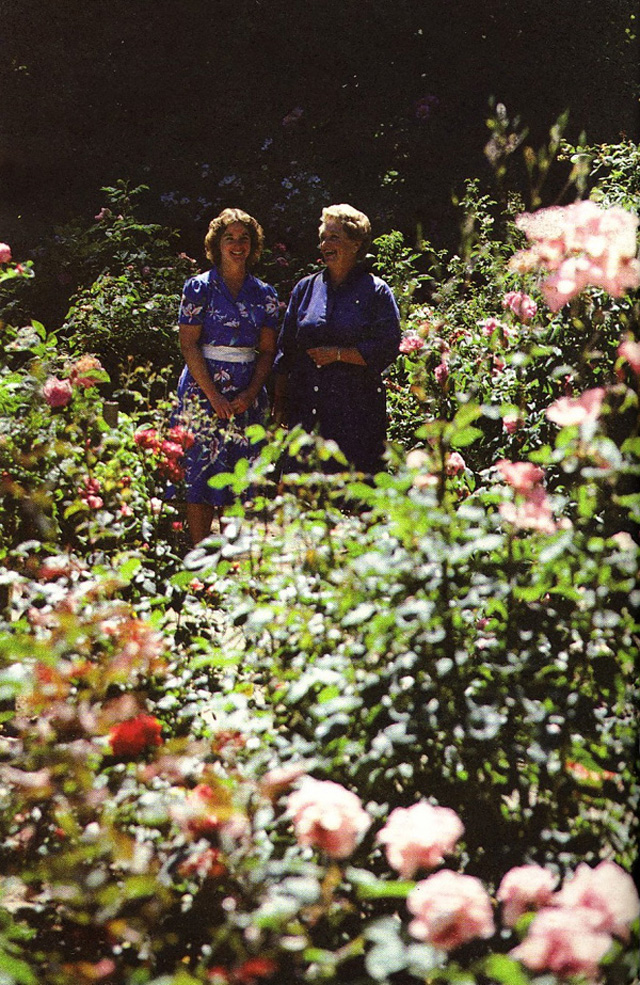 Kathy (Wiley) Minier, with her mother, Pat Wiley, in 1982

Pat Wiley, owner of Roses of Yesterday & Today from 1976-1996, and who was involved helping her mother, Dorothy Stemler, in prior years, passed on November 11, 2009. She will be sorely missed.