Bare Root Roses | Potted | Own Root Roses | Gifts and Gift Certificates | Vases | Order Form
Current Catalog: OUT OF PRINT. Please see online catalog for descriptions under 'Our Roses', bareroot, own root 1 gallon potted and large potted roses. The Catalog includes over 140 rose descriptions, a color cover of a bouquet of roses available, and 45 additional color rose photos, as well as Descriptions,Recommended Roses for Special Conditions, and History of Roses.
We are also now offering a reproduction of our 1959 catalog! Please send $7. and specify you would like the 1959 catalog.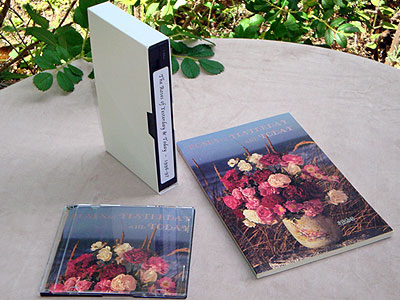 We are offering our 1996 Catalog for reference for $7.00  This catalog has descriptions of 229 varieties of roses and  black and white photos of approximately 159 of them.  We currently cycle in 25-30 % of the roses in the catalog at a time.  Makes a fine reference book and introduction to old roses.
To receive, please send check or money order for $7.00 to:
Roses of Yesterday, 803 Browns Valley Road, Watsonville, CA 95076
Please specify you are willing to receive the '96 catalog, otherwise we will return your check.
This DVD or Video accompanies the '96 catalog. See all of the roses swaying in the wind and the sunlight as you read along the descriptions of the roses. Film footage of the roses and photographs when video footage was not available. The cost of the video, including accompanying '96 video, is $20.00 plus tax (CA) and $5.00 mail shipping (includes catalog). A great gift and a way to learn about all of our roses!!!
Organic Rose Pot Pourri
Freshly dehydrated organic rose petals made up of the following roses: Salet, Prince Camille de Rohan, Jacques Cartier, Rose de Rescht, Arrillaga, Mrs. John Laing and a few other varieties on occasion. There is no fragrance or preservatives added. Chemical free. Safe for use as a tea and for cooking.1 ounce $25.00 plus $5. shipping
Pegging Stakes
Pegging is a method of forcing a large shrub and climbing rose canes into an arched position.
Made of heavy 10 gauge wire, appoximately 20 inches long, with hooked end which holds cane in place.
Easily to remove and reuse.  They come to you a dozen (12) to a package. $15. plus $8. shipping.
Please go to our Secure Order Form https://www3.cruzio.com/w3a028/orderform.htm to pay by Visa/MC or you may print and send your order and check by mail. You may also order by calling (831)728-1901 or email us postmaster@rosesofyesterday.com